Working to support your interests on local issues
Whether it's the need for more local schools, local infrastructure upgrades or much larger projects I will always work to make sure the interest of our community is heard! Take a look below to see what current issues I'm tackling.
Funding for upgrades to key roads, such as Mulgoa Road, will support economic growth and productivity by improving connections to Western Sydney employment lands and the Aerotropolis. Upgrades will also deliver local safety improvements and promote sustainable transport options by providing active transport facilities and possible future public transport needs.
EASTERN CREEK INCINERATOR
I am wholeheartedly opposed to this proposal and will fight hard to stop the Next Generation incinerator being dumped in our backyard. From day one, this proposal hasn't passed the common sense test. There are real health concerns associated with burning thousands of tonnes of waste so close to homes and schools, this is a serious situation and we will fight this incinerator proposal.
On Tuesday 11 May 2021 the Land and Environment Court decided to uphold the appeal lodged by the Catholic Metropolitan Cemetery Trust (CMCT) for the Memorial Park at Wallacia. This decision is extremely disappointing. The court's ruling does not change my absolute determination to fight this proposal to turn the Wallacia Golf Club into a cemetery.
Mamre Road is an important transport corridor in the Western Parkland City and is a critical connection between the Western Sydney Employment Area and the future Western Sydney Aerotropolis. Delivering this project is a priority for me as the local member and this government.
SERVICE NSW GLENMORE PARK
A service NSW centre will be located permanently in Glenmore Park to meet the growing needs of the community. The new centre will provide an array of Government services and is set to create 10 to 15 jobs. It will be wonderful to have our own centre, people are tired of travelling out to Penrith for these services.
ROPER ROAD M4 WESTBOUND ON-RAMP
In 2020, it was announced that a $20 million investment would be committed to develop and deliver a new west facing ramp. This would provide direct access onto the M4 Motorway from traffic travelling north from St Clair. Transport are now working to complete the new ramp in order to have it open and running by late 2022. It's an important initiative that will support the ongoing growth and development of the Erskine Park Industrial Area and the Western Sydney International Airport.
SCHOOL INFRASTRUCTURE
Securing and investing in our future
Over the next ten years the NSW Government has committed over $7 billion in the development of schools across NSW. It is especially important to the electorate of Mulgoa as our community continues to grow.
Mulgoa Rise Public School
Mulgoa Rise Public School is a new public school being delivered for the community of Glenmore Park. It will be a world class public school that will have all the modern and essential resources that our kids need in today's world. Education of our children is at the forefront of parents' minds.  I will always advocate to ensure that only the best investments are made in our children's future.
Projects around Mulgoa
All over the electorate of Mulgoa there are a range of projects that I am working hard to deliver for my community. The Glenmore Park High School Performing Arts and Learning Centre is one of the shining examples of these investments. The new centre will deliver a performance hall with seating for up to 400 and two new innovative learning spaces. The facility will also be available for local public schools and the wider community.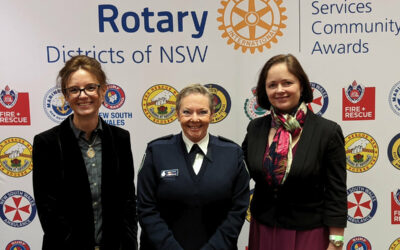 Lesley Smith from Cumberland Zone Rural Fire Service has been named as one of NSW's 28 top emergency service workers.
read more